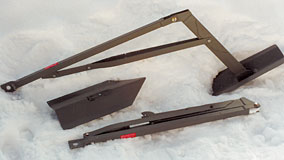 This picture shows two Pull Pals. One is deployed and the other folded for storage.

Pull PalŪ is designed for winch-equipped JeepsŪ, buggies, campers, 2-wheel drive, 4WD SUVs, Trucks, and HummersŪ. Ideal for construction surveyors, search and rescue, utility, police, and rural maintenance vehicles.


Pull Pal is ruggedly constructed with a forged chrome-moly plow assembly, welded construction overall, and assembled with Grade 8 bolts for strength and quality.


Pull Pal gets your rig out...fast. Simply insert the plow point into the soil. As the winch cable tightens, the point embeds itself deeply and firmly into the ground and frees your rig with the assistance of the wheels in motion.


Pull Pal folds compactly to the size of an ordinary bumper jack for easy storage. It can be mounted inside or outside or stored in Pull Pal's custom carrying case.
RW14,000
"New Military-Size" Pull Pal for Suburbans, large trucks and Hummers - GVW10,000 and under.

The RW14,000 is 45 lbs. folded, and still just 45" long (9 lbs. HEAVIER THAN THE 11,000, BUT SAME LENGTH!) with 24" by 14" spade.


RW11,000
RW11,000 Pull Pal for JeepsŪ through mid-size trucks GVW6000 and under.

The RW11,000 weighs only 36 lbs.
Storage
The Pull Pal comes with a detachable spade and folds to the size of an ordinary bumper jack for easy storage. Designed to work in most types of ground (including sand, hard-pan soil and even snow). It can be used to extract your vehicle as well as an anchoring point from the rear when winching another vehicle out.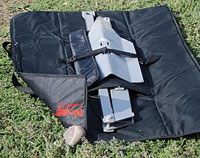 The case turns it into a nice package for stowing.


The Pull Pal carrying case is the newest alternative to storing & carrying your Pull Pal. The heavy nylon body surrounds high-density closed cel foam. A reinforced back panel strengthens the case and prevents it from collapsing. There are two cinch straps that secure the Pull Pal in place and a padded panel the separates the spade from the shaft. The case can also be used as a mat protecting you and/or your tools from cold or muddy ground while working under your vehicle. One size fits all Pull Pals!