The second cardinal rule of 4-wheeling is to always go with one or more other vehicles - the buddy system. But -- not everyone can follow this rule. And some of us just like to be by ourselves! (Rule 1 - if you are wondering - is let someone know where you are going and when you will be back.)

If you wheel enough sooner or later you are going to get stuck. Without another vehicle to pull you out, go into town for parts or go for help, you need to rely on the tools, know-how and skills you have.

In this hands-on clinic, you will practice many ways to get unstuck. The techniques used will depend on the terrain stuck in - mud, snow, ditches, rocks, etc. and the tools and resources available. We will not climb on, hang on or push vehicles to get them unstuck. This is not a safe practice.

We will examine the uses of alternative anchors / deadman; alternatives to winching; use of winch, using natural materials, items in the vehicle such as mats, firewood & rugs. the spare tire, recovery straps, Hi-lift jack, bottle jack, mats, rugs, winch, firewood, rocks,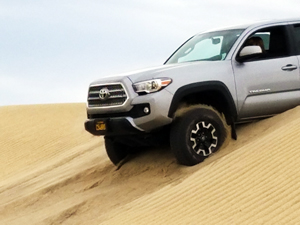 Not enough break over clearance
(Click picture for a larger image.)



Be sure to bring any tools you have you want to try for self recovery.

You need a stock SUV or 4WD vehicle with 4 low range capability. All-wheel-drive vehicles that do not have a 2 speed transfer case (low range) are not appropriate for the class. Two examples of vehicles that are not appropriate for the class include Subaru Forester and the Honda Ridgeline.

This class will build your confidence and provide experience to help get unstuck.

The class is limited to 10 vehicles.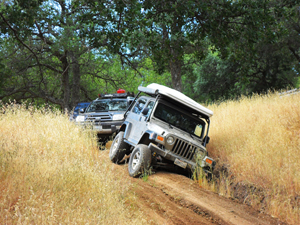 (Click picture for a larger image.)



Satisfaction Guarantee If you are not satisfied and do not feel you received good value for your money and time, send us an email explaining why and the full price of the class will be refunded, no additional questions asked. You may keep all handouts as our apology.


Register here for the next
Self-Recovery Clinic