Getting Started Off-Road Driving & Safety Clinic

For a list of Dates or to Register for the next
Getting Started Off-Road Driving Clinic click here


" Hi Tom, Thank you for a wonderful weekend!
You went the extra mile for us - literally and figuratively - and kept us safe.
I am signing up for the winching class and look forward to further adventures.
You are a worthy cat!
All the best, "
Andy Harp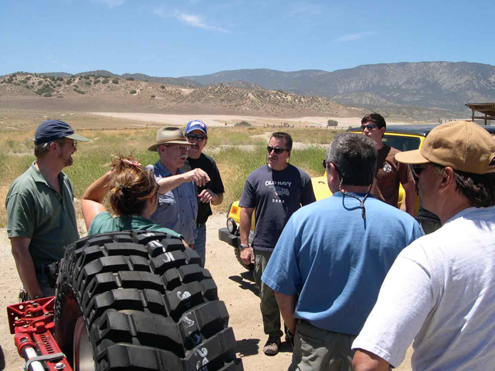 This clinic is specifically designed to meet the needs of novice off-highway drivers or someone with a bit of experience who is looking for a more complete understanding. In the class we will cover basic information about 4WD vehicles (just enough to understand what is going on). We will cover a lot of safety and environmental concerns. But the largest part of the class is driving technique to get you through a variety of terrain. A handout of the material covered is provided. Here is a list of items we will cover: Off Road Vehicles, How 4WD Works, Driving Technique, Safety, Pre Run Check, Survival & Peace of Mind Kits, Options & Accessories, Overview of options for getting unstuck, Post Trip maintenance, Trail Etiquette & Tread Lightly.

The class does not address vehicle build-up options and issues. This class is a prerequisite for Getting Started Off-Road Driving - Day 2.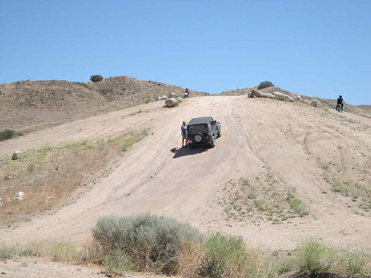 The class will answer these questions and many more questions:
How do you avoid damage to an expensive vehicle?
What is the critical difference you need to understand about operation of 4WD systems?
What do you need to avoid, when descending a steep Hill?
What impact does an automatic transmission have on off-road driving?
How can you improve your traction by 250%?
How deep can you safely cross water?
What is the most important safety item you can bring?
What are 10 ways to effect vehicle recovery?


Each vehicle will receive a copy of Jim Allen's Book "Four-Wheeler's Bible". Retail price on this book is $34.99. This 200 plus page book is chock full of color pictures to illustrate how it works, what to do, and what to avoid.

" PS: Just a side-note, it is quite interesting that after I had taken your class that the book 4-Wheeler's Bible now makes sense!
As you know, I had my class originally scheduled for September (then rescheduled to November). So, in the meantime, I purchased a used copy of the book.
And to be honest? It was way boring I fell asleep in the first few chapters! Hahaha!
But after your class? Stuff started to click - I am now highlighting specific entries, making notes in the margin, etc. "
Alfred Rodriguez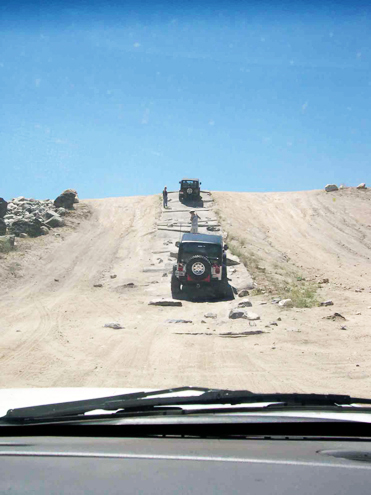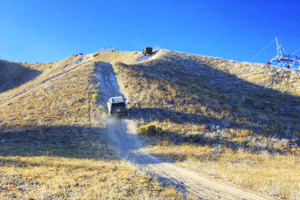 You need a stock SUV or 4WD vehicle with 4 low range capability. All wheel drive vehicles that do not have a 2 speed transfer case are not appropriate for the class. Examples of vehicles that are not appropriate for the class include Subaru Forester, Audi Q7 and the Honda Ridgeline.

The class is about 4 hours of classroom and 4 hours of behind the wheel practice. Hungry Valley has a practice area for 4WD that we will use. Everyone has a lot of fun. It is a great way to learn about your vehicle and build confidence. The class is limited to 10 vehicles.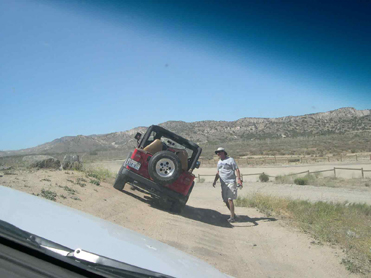 Hungry Valley State Vehicular Recreation Area is located in the Tejon Pass about 50 miles north of Los Angeles, CA just west of the Interstate 5 corridor. For more information check out their web site Hungry Valley State Vehicular Recreation Area.

Satisfaction Guarantee
If you are not satisfied and do not feel you received good value for your money and time, send us an email explaining why and the full price of the class will be refunded, no questions asked.
You may keep all handouts as our apology.

Pricing
We charge per person including passengers since we feel everyone attending, riding, watching, etc. learns a great deal.
( Badlands Off-Road Adventures Terms & Policies )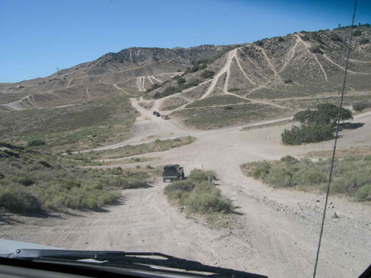 "Day 1 truly transformed my view of the off-road world, and the capabilities of my vehicle. I have been off-roading a few years now, but have always exercised a great deal of caution in road navigation due to my lack of formal training. I always had a feeling that given some basic training, my vehicle would be able to negotiate most of the "obstacles" I had encountered in the past, but avoided by taking a safer route. Your class exceeded my expectations by magnitudes. A day in class with you was one of those experiences that left my mind reeling with future possibilities, and in a state of awe at the various field scenarios that I found myself in. Every training exercise that you so patiently, and expertly walked us through unfolded lessons of immediate application. The immediacy translated quickly into an enhanced confidence that grew as the day progressed. My biggest delight was the discovery that my Isuzu has powers, and capabilities that I never imagined. Even my most optimistic expectations of your class did not include a lesson in climbing that monster hill that we worked at the end of the day - twice!!! I gave my Isuzu an extra good wash the following day for a job well done. Thank you for the great experience. See you on Day 2. Regards,"
Raul Saenz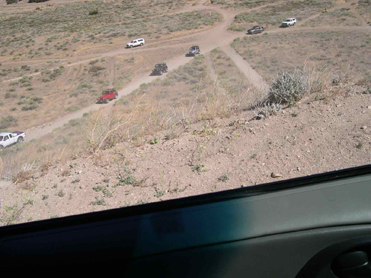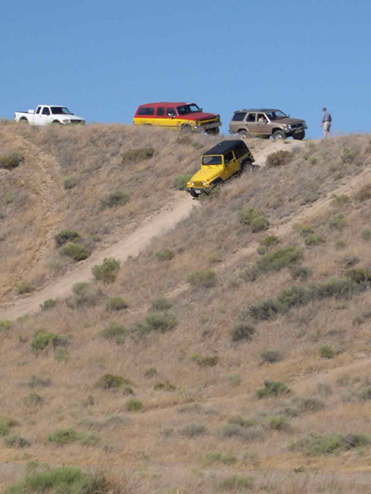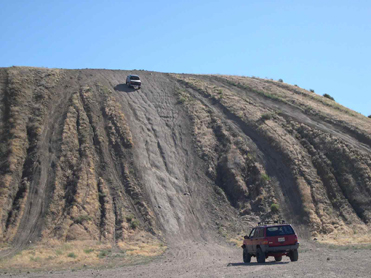 Hi Tom, I had a wonderful time in the Getting Started Off-Road Driving Clinic. I never thought that my stock Jeep Wrangler could handle the hills and rocks and trails that we explored. You are a very good instructor and leader. Your calm demeanor, confidence, and excellent instruction enabled me to challenge my self imposed limits. I canít wait for the next course date to arrive.
Sincerely,
Michael Maltzman



For a list of dates or to register for the next
Getting Started Off-Road Driving Clinic
click here





back