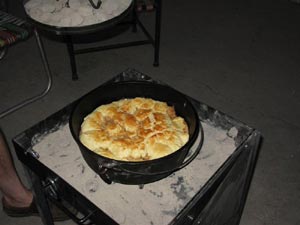 Dutch oven table is handy and may be required some places but it is heavy to transport.


Apple cobbler, brownies, cornbread, cinnamon crumb cake, cinnamon rolls, sourdough bread, mixed vegetable casseroles, sweet potato casserole, pineapple upside-down cake, pizza, lasagna, and baked ham can all be cooked in a Dutch oven.

In this 4 hour class, you will learn all the facets of Dutch oven cooking. You will learn
How to buy and season a Dutch oven
What size oven is right for you
What kind of oven and the trade-offs
Tools you need
How to control the heat
What to cook and starter receipes
How to clean
How to store a Dutch oven
Dos and don't
How to restore one
We will discuss the differences between wood and charcoal cooking.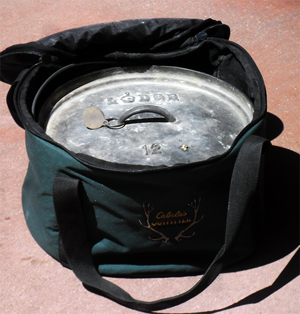 Use a bag or box to transport your oven.
(click picture for higher resolution)

No equipment is required for the class. Come prepared to learn. But if you already have an oven, bring it with you. Our instructor can help you make your first recipe. At the time you register let us know and we will give you a list of ingredients to bring.

If you do not have an oven yet, it is best you wait until after the class so you purchase the right oven.

The class is limited to 10 people so sign up early.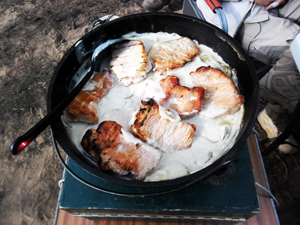 Pork Chops, Potatoes and sauce
(click picture for higher resolution)

Since most recipes only take an hour of cook time and maybe 20 minutes of prep, we should get to taste at least one Dutch oven treat.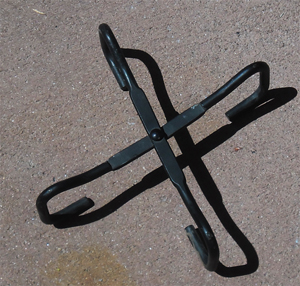 Lid Holder
(click picture for higher resolution)

Satisfaction Guarantee
If you are not satisfied and do not feel you received good value for your money and time, send us an email explaining why and the full price of the class will be refunded, no questions asked.