Basic to Advanced Winching & Recovery Clinic
To register for the next Winch Clinic click here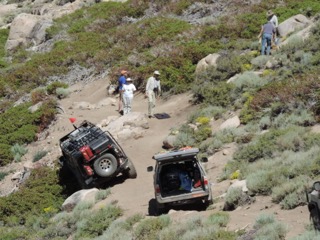 The only solution is a winch!
(Click picture for a larger image.)




While the Getting Started clinic touches briefly on winching, the topic deserves a full day of instruction and practice. If you are considering installing a powered winch on your vehicle, or have one already but need training to learn how to get the best from it and do it safely, you need to take this class.

This clinic is held near Mojave, CA or near Borrego Springs, CA.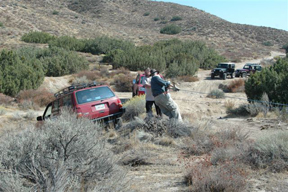 Double line pull using a pulley


The one day course covers:

Safety related issues
Basic operation of the winch
Simple and complex riggings
Stuck assessment
Winch capability
Minimizing environmental impact
This is a hands on class. If you do not have a winch on your vehicle, you will be paired up with another student.
The class is limited to 10 vehicles. No more then 5 vehicles without winches will be allowed.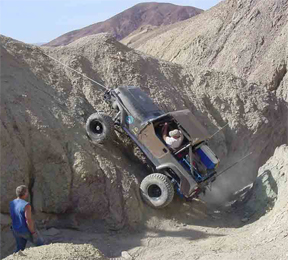 The only way out


Required Equipment :
For this class you must have a street legal, insured 4WD with a low range transfer case. You must have at least one recovery hook (or recovery point) on the front and one on the rear. You need an FRS radio. All students must bring a pair of loose fitting leather palm gloves.

If you have a winch youalso need to bring a winch kit containing:
The winch controller
Loose fitting leather palm gloves
4 to 6 3/4-inch pin bow shackles rated at 4.7 tons
Pulley
Tree strap
A heavy blanket for a parachute
Grade 70 chain with grab hooks
and wheel chocks.
Bring any other optional winch equipment you have such as a Pul Pal.

Make sure your rig is ready to go off-road if needed.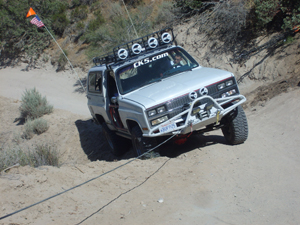 Needs to be pulled in two directions at the same time to avoid sliding off.
This direct line pull will not work.


Once you register, you will receive detailed driving instructions to the meeting point and a check list of items you should bring.

As always, the clinic is subject to change due to unforeseen conditions.

Satisfaction Guarantee
If you are not satisfied and do not feel you received good value for your money and time, send us an email explaining why and the full price of the class will be refunded, no questions asked. You may keep all handouts as our apology.







Before your class, some co-workers asked me, "What do you need to learn about winching? Don't you just hook up to a tree and get yourself unstuck?" After sharing what I learned, they said, "I never thought of that!" and my wheeling friends said things like "Wow, I could have used that on a trip last year."
Best regards,
Jon Stoddard

I thought the winch clinic was great....exactly what I needed and hoped for. I especially liked the diagrams you handed out during the day for the the various riggings we practiced in the field. Aside from the conceptual help the diagrams provided for our field exercises, they have been excellent reference materials for me to review and imprint the lessons subsequent to the clinic. I still carry them with me in my recovery kit when I go off-road
Sandy Groves