Living in Southern California we are exposed to many potential natural disasters including wild Fires, mud slides, and earthquakes. Are you capable of driving your family to safety in the event of a disaster? If ordered to evacuate, can you navigate your SUV through broken streets, downed trees, fallen telephone poles, flood waters, and deal with many other obstacles? Knowing how to use the capabilities of your SUV might save you and your family.

The SUV survival clinic will provide you with skills, knowledge and training to handle these tasks and allows you to be better prepared to protect your family in an emergency.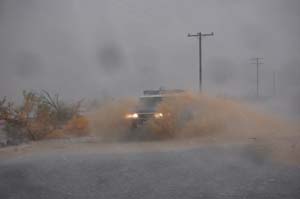 Photo by Eric Scott

After the 9/11 attacks on the World Trade Center, there was a huge traffic gridlock. Thousands of people walked home that day. You should start planning now how you would avoid major road and freeways. After an earthquake, you should not drive on the freeways; there may be structural damage. In the case of a major evacuation, like those in the southern states caused by hurricanes, the freeways are jammed. It is better to find alternate back roads.


We in the Los Angeles area are hampered because there are actually very few roads that you can cross the mountain barriers that surround the LA Basin. In an area wide disaster, all the major roads will be jammed. Are you capable of navigating alternate routes, and is your vehicle prepared for such a drive?

After an earthquake, you may discover that you are better off staying in your home. But what if you need to get home from work? Perhaps you need to pick up the kids at school? Are you capable of using your SUV? And if your home is not safe or the area is not safe, you may need to evacuate. You need to know the capabilities and limits of your 4-wheel drive vehicle or SUV. You need to learn driving skills to take advantage of the vehicle's 4-wheel drive systems.
Every year, we see mandatory evacuation of residences due to wild fires and potential mud slides. These present additional driving requirements.




You need only a stock SUV or 4WD. The class is about 4 hours of classroom and 4 hours of behind the wheel practice. Everyone has a lot of fun. It is a great way to learn about your vehicle and build confidence.

Knowing how to properly drive your SUV during a disaster could literally save you and your family. The class is limited to 10 vehicles, so sign up now.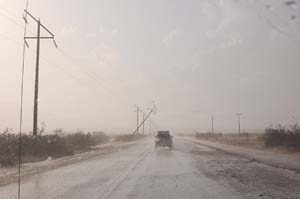 Photo by Eric Scott

Satisfaction Guarantee
If you are not satisfied and do not feel you received good value for your money and time, send us an email explaining why and the full price of the class will be refunded, no questions asked.