Tom Severin, President Badlands Off-Road Adventures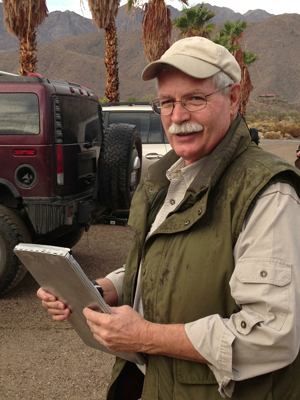 Photo by CarlaKing.com
(click picture for higher resolution)

Tom Severin is an International 4-Wheel Drive Trainers Association© certified professional 4WD Trainer and a Wilderness First Responder (WFR). He is a instructor for the United Four Wheel Drive Associations (UFWDA) and the California Association of 4WD Clubs. As a former Deputy Wildlife Conservation Officer for the State of Pennsylvania, his duties included law enforcement activities, game stocking; public relations and speaking; hunter education; landowner relations; small animal complaints and highway-killed deer retrieval.

He has an extensive background (forty plus years experience) with four-wheel drive vehicles, on and off road, in various conditions and countries. He imported a Jeep while living in England and used it on vacation in France.

Tom is a graduate of Purdue University and a recognized expert in shared service accounting management and management information systems. Tom is an accomplished leader with a comprehensive background directing global support centers processing high volume transactions and high volumes of customer interactions. He was a presenter for the 1996 International Conference on the Study of Work Teams and was a frequent speaker on self-directed work team concepts.

Badlands Off-Road Adventures offers 4WD training and 4WD guided tours specializing in Four Wheel Drive vehicles. The company has trained hundreds of students, including the Orange County (CA) Sheriff's Department, the Gas Company, the National Park Service, and the US Marine Corps.

Badlands Off-Road Adventures strives to provide instruction in a friendly, casual, non-judgmental environment. Non-lethal mistakes are encouraged as a way to learn under the watchful eyes of the instructor.



Tom is "Master Tread Trainer Certified" -- which is the highest level of training available through Tread Lightly.

Please contact Badlands Off-Road Adventures if you would like Tread Trainer training for your club.







International 4-Wheel Drive Trainers Association©
The mission of the International 4-Wheel Drive Trainers' Association© (I4WDTA©) is to set the highest level of standards to promote safe and professional 4-wheel drive training.
United Four Wheel Drive Associations - Protecting, Promoting, and Providing 4x4 opportunities worldwide
Through the UFWDA 4WD Awareness program, UFWDA has trained and introduced thousands of four wheelers on the components of their 4×4 vehicle, proper off-highway driving techniques, proper vehicle recovery, courtesies related to four wheeling, and environmental awareness utilizing the Tread Lightly! philosophy.


Wilderness First Responder by Wilderness Medical Associates
This 8-day (72 hour) course is the industry standard for outdoor professionals. The course is recommended for outdoor professionals as well as outdoor recreationalists who lead adventure trips and those who are in the backcountry for days or weeks and may have to care for a patient for days Wilderness First Responder courses developed by Wilderness Medical Associates are widely considered the most complete medical training for outdoor professionals.




Press Room