Tire Repair & Hi-Lift Mini Clinic
To register for the next
Tire Repair & Hi-Lift
Mini Clinic click here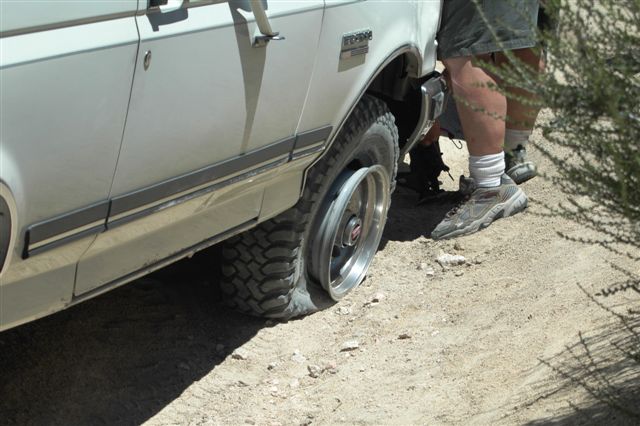 This 3 / 4 hour clinic will provide you with the knowledge and skills to repair the most common tire problems and to use a Hi-lift jack safely to aid you in the process.

New for 2014, we have scheduled a number of the Tire Repair clinic for the Monday following Getting Started and Advanced Beginner Clinics to create an opportunity to receive 3 days of training in one trip. These clinics will occur near the same area as the prior day class.

Before you hit the hard trails, you need to stock up on some spare parts and skills to repair tires in the field. Tires are likely going to be the most common problem you will deal with. With the right tools and spare parts, you will no longer worry about airing down.

The types of problems you are likely to encounter fall into four general categories. To drive confidently off-road you should know how to:
Fix a bead
Plug a puncture
Break a bead
Replace a valve stem
For the class, the following list of tools and spare parts is optional. However the tools and spare parts listed are recommended for actual off-road use and will be demonstrated in class, so if you have your own, please bring them.
Compressor
Hi-lift® jack
A rag to clean out the rim
(optional) Steel brush on a long handle
Plug kit like Viking Off-road's Tire Repair Kit
A couple of extra valve stems
4 way tire tool
BFH
Bring some old clothes and learn how to fix the most common tire problems.

Since we will be using the Hi-lift with the tire repair, we will also cover other uses for it and throw in a bunch of safety warnings along the way.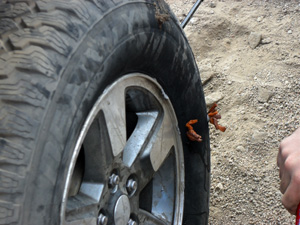 Satisfaction Guarantee
If you are not satisfied and do not feel you received good value for your money and time, send us an email explaining why and the full price of the class will be refunded, no questions asked. You may keep all handouts as our apology.







Many of the tire repair clinics are held the day following one or two of our other classes and will be held in the same venue.

To register for the next
Tire Repair & Hi-Lift Mini Clinic






| | |
| --- | --- |
| Back | | Phone 310-613-5473 |