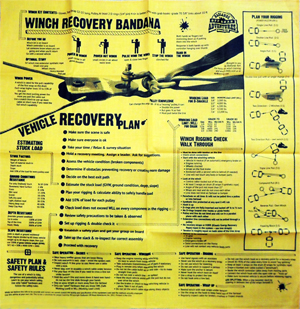 Click for larger size image

Redondo Beach, CA – Badlands Off-Road Adventures, Inc. has released a "Winching Recovery Bandana"

It contains all the information required for a winch recovery operation in a soft foldable format, which can be stuffed in to your recovery bag.

According to Tom Severin, President of Badlands Off-Road Adventures, "the Bandana is a fantastic supplement to the Badlands Off-Road Adventure "Basic to Advanced Winching and Recovery DVD". The Bandana is packed full of useful information and is a quick reference in the field when no DVD player is available."

A winch is a useful off-road tool that can quickly become dangerous and potentially lethal to the operator and spectators. Proper use requires good working knowledge of safety procedures, safe riggings and inspection. Since winches are not used often, the Bandana serves as a quick reminder of the details learned in the training class and watching the DVD.


The Bandana layout follows the "Vehicle Recovery Plan" with pathways to more detail. A unique section of the Bandana, gives the steps for a "Winch Rigging Check: Walk through" so that you verify every element of the rigging before you commit to the pull. Stuff this in your recovery kit and you will always be ready!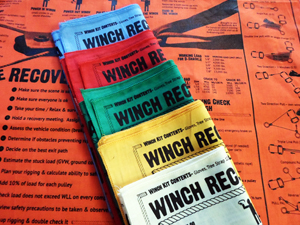 Click for larger size image

Badlands Off-Road Adventures will be stocking their Dealers soon. The Bandana can be ordered at 4x4training.com - Winch Recovery Bandana" Pick up or order the Winching DVD too! There is no substitute for hands on training. If you can, sign up for one of Badlands Off-Road Adventure's Winching Clinics.

Warning – the Bandana and DVD are not a substitute for proper training and use of quality equipment that is used within the bounds of their safe working load. We advise you to use the information provided in both the Winching Recovery Bandana and the "Basic to Advanced Winching and Recovery DVD" at your own risk. We cannot control the quality and specifications of the equipment used and the methods actually employed.

About Badlands Off-Road Adventures, Inc
Badlands Off-Road Adventures conducts training classes and tours for off-highway enthusiast of all skill levels. The website is www.4x4training.com. Tom Severin has 40 years of off-highway driving, including patrolling as a former Deputy Wildlife Conservation Officer and former Sheriff's Deputy. Severin is a certified 4 Wheel Drive Trainer, a Wilderness First Responder, and Master Tread Lightly! Trainer.