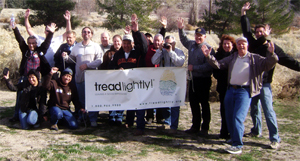 Click for larger size image

Redondo Beach, CA – Badlands Off-Road Adventures, Inc. is pleased to announce the schedule for the next Tread Lightly! Tread Trainer Course to be held in Southern California.

The Tread Trainer course is designed to train participants in innovative, practical methods of spreading outdoor ethics to the public with a curriculum specifically focused on motorized and mechanized recreation. Once a participant becomes active in the Tread Trainer program he or she is equipped to present the Tread Lightly! message to other educators, clubs, employees, visitors, enthusiasts or community members.

Upon successful completion of this course, each participant will become a Tread Lightly! Tread Trainer, receive a completion certification and become eligible for benefits provided through the Tread Trainer program. Successful completion requires participation in all course activities and teaching exercises of this one day course. Note: off-road vehicles are not required and will not be used during the course.



Those who complete the Trainer course are equipped to:
Identify possible environmental and social impacts resulting from irresponsible recreation on land and water
Be able to describe the five Tread Lightly! minimum impact principles and how they can be applied to motorized recreation. (ATVs, 4WD, Dirt Bikes, water recreation, Snowmobiling), mechanized recreation (mountain bikes), camping, horseback riding and hunting.
Understand, demonstrate and teach Tread Lightly! minimum impact principles.
Lead a discussion on outdoor ethics and help others explore their own personal outdoor ethic.
Each attendee will receive educational materials including a Trainer Manual, Tread Lightly! Guide to Responsible Use, Tread Lightly! Education Curriculums, and Tread Trainer Power Point.

Register now for the January 5th 2013 clinic: http://www.4x4training.com/calendar/calendar.php#TRead

Tread Lightly! Tread Lightly! is a nonprofit organization with a mission to promote responsible outdoor recreation through ethics education and stewardship programs. www.treadlightly.org

Badlands Off-Road Adventures, Inc Badlands Off-Road Adventures conducts training classes and tours for off-highway enthusiast of all skill levels. www.4x4training.com.

###