Bradshaw Trail
The first road through Riverside County was blazed by William Bradshaw in 1862, as an overland stage route beginning at San Bernardino and ending at La Paz, AZ (now Ehrenberg, AZ). The trail was used extensively between 1862 and 1877 to haul miners and other passengers to the gold fields at La Paz. The trail is a 65 mile graded road that traverses mostly public land between the Chuckwalla Mountains and the Chocolate Mountain Aerial Gunnery Range. The trail offers spectacular views of the Chuckwalla Bench, Orocopia Mountains, Chuckwalla Mountains and the Palo Verde Valley.

Our goal is to Follow the trail from near the Salton Sea to Colorado River.


This adventure is 2 days of scenic, historical, light wheeling and a night of primitive camping under the stars. You need to be completely self-sufficient - food, shelter and water. We will have a large grill for the fire so you can barbeque your favorite meal if you like.

(click picture for higher resolution)
Bradshaw Overland Route
An excellent book that would be worth acquiring prior to the trip is "Gold Road to La Paz an interpretive guide to the Bradshaw Trail" Witten by Delmar G. Ross.

Here is a short passage from his book. "William David Bradshaw, an experienced miner and western guide who had been in California since 1846, saw the need for a better route to the mine along the Colorado and set out to locate one in May 1862. Using already existing roads and trails over San Gorgonio pass, Bradshaw's party of nine men made their way south to Dos Palmas, their last stop on an already existing stage road. From Dos Palmas, at that time also known as Warm Springs, Bradshaw's party turned into the almost unknown desert between Orocopia and Chuckwalla mountains on the north and the Chocolate Mountains to the south. Continuing in a generally easterly direction and following the map drawn by the two friendly Indians, they reached the Colorado River a short distance north east of present-day Blithe. After crossing the river they turned northward approximately four miles to La Paz.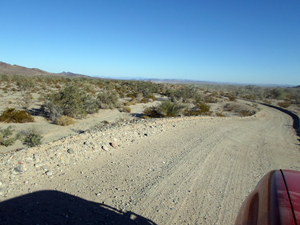 Much of the trail is well graded
Terrain
Expect the terrain to range from sandy washes to deep wash outs . small berms or steps, flat desert, to hills. We can make a few detours to explore nearby trails. The difficulty may increase a level or 2. The 4-Wheel drive challenge is mild.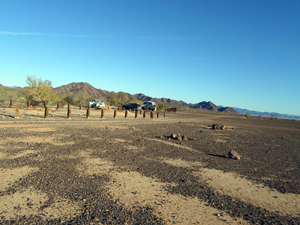 Camp site
Camp
On this trip we will set up camp each night in a different location. You can tent camp or sleep in your vehicle. An off-road Adventure type trailers is ok on this trail. This is the desert. It can get cold and night and we have no control over the wind or heat. A high wind can hamper our cookout.
Difficulty:
The trip is quite mild. Although, a side trip through Red Canyon may require more attention to wheel placement.


Weather:
Daytime temperatures usually average about 72° but can sometimes drop lower. Evening temperatures typically drop into the 40°F range but can drop into the 20's during exceptional years.

Cancellaton and Alcohol Policy