.

This biodegradable, multi-purpose cleaner was designed for campers and other outdoors enthusiasts. It can clean dishes, hands, hair, and just about anything that's washable.

"An ounce of prevention is worth a pound of cure," as the old saying goes. An "ounce" of planning, patience and effort can prevent the need for cures while you're four wheeling. Follow these suggestions, and your weekend won't be spoiled by avoidable issues.

# # # # #



##########################

Related Articles from Badlands Off-road Adventures
Did you miss the previous article?
---
Some Upcoming Events

(click on the link for details)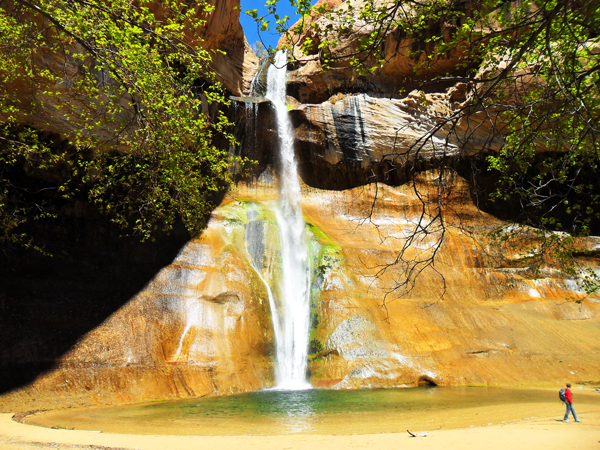 Calf Creek Falls, Grand Staircase UT
(Click picture for a larger image.)

Summary of upcoming events.











---
Kidde Recalls 5 Million Fire Extinguishers
Recall Date February 12, 2015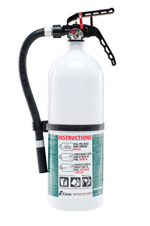 Recalled 2-12-15


Items affected are Kidde brand, black plastic Zytel® nylon valve disposable extinguishers both ABC and BC rated models manufactured between July 23, 2013 and October 15, 2014 and sold between August 2013 and November 2014. The affected fire extinguishers are white or red in color and are either ABC or BC-rated. The Kidde logo and serial number are located on the nameplate. The date code is an ink jet 10-digit number stamped on the side of the cylinder near the bottom. Digits 5-9 of this number convey the day and year of manufacture. Affected units will have the following five digits in a date code: 2013: XXXX20413X through XXXX36513X 2014: XXXX00114X through XXXX28814X

Check Kidde's web side for a list of models

Hazard: Kidde has identified a quality issue with black plastic Zytel® nylon valve disposable fire extinguishers. In a small number of instances, Kidde found that a supplier built a component that is out-of-specification. When the lever is pressed and released multiple times, the extinguisher may fail to fully discharge as designed.

I recommend refillable metal fire extinguishers with a metal nose for off-road use.


---
Sand Clinic February 28, 2015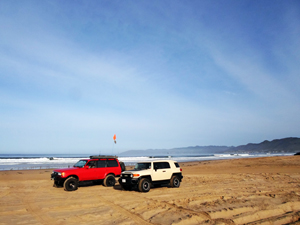 On Pismo Beach in California
(Click picture for a larger image.)

If you have been waiting for the next Sand Driving Clinic, put it on your calendar for February 28st and sign up now. This day-long clinic will expose you to a variety of driving conditions and levels of difficulty. Driving on sand is challenging and different than dirt, so we'll progress slowly as you learn the proper techniques. As your confidence grows, you will master increasingly more challenging dunes. Along the way you will be exposed to the beauty of SVRA and the thrill of the windswept dunes. This is a rare opportunity to cruise the only beach in California open to vehicles.
More details...



Register for the Sand Clinic using this link.

http://4x4training.com/calendar/calendar.php#SandPismo


---
##########################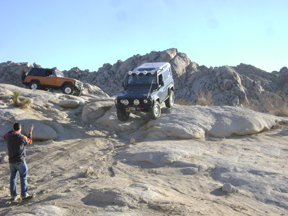 Rocks



The Class will be in Johnson Valley. This is an introduction to Rock crawling but it is not on "baby" rocks. We take our time and stress careful wheel placement. We use spotters for difficult sections. You learn by inspecting the obstacle and predicting the line; by watching others try their line; by experiencing it yourself; and by the coaching. We recommend you repeat the training several times. You will be much more relaxed the second time over the same obstacles and you will pick up on little details missed the first time. More Details...


You can register directly at http://www.4x4training.com/calendar/calendar.php#Rocks



---
Winch Recovery Bandana & Winching DVD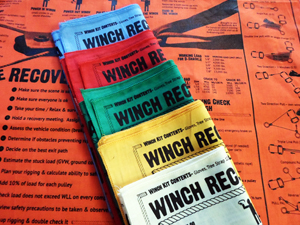 Click for higher resolution image

We have our new stock with many new colors (Red, Orange, Green, and Blue) on hand. The Bandana is packed full of useful information and is a quick reference in the field when no DVD player is available."

The Bandana layout follows the "Vehicle Recovery Plan" with pathways to more detail. A unique section of the Bandana, gives the steps for a "Winch Rigging Check: Walk through" so that you verify every element of the rigging before you commit to the pull. Stuff this in your recovery kit and you will always be ready!

Pick up or order the Winching DVD too! There is no substitute for hands on training. If you can, sign up for one of Badlands Off-Road Adventure's Winching Clinics.

Warning – the Bandana and DVD are not a substitute for proper training and use of quality equipment that is used within the bounds of their safe working load. We advise you to use the information provided in both the Winching Recovery Bandana and the "Basic to Advanced Winching and Recovery DVD" at your own risk. We cannot control the quality and specifications of the equipment used and the methods actually employed.


Winch Recovery Bandana Order Button


Order a Basic to Advanced Winching & Recovery DVD too!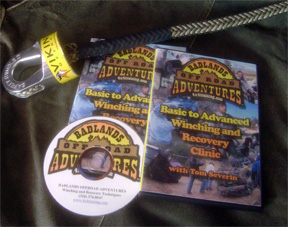 (Click picture for more details)
---

I hope to see you on the trails!
Tom Severin, President
Badlands Off Road Adventures, Inc.
4-Wheel Drive School
310-613-5473
http://www.4x4training.com
Make it Fun. Keep it Safe.
#####
If you find this information valuable, please pass it on to a friend. You can forward them the email. If you received a forwarded copy of this newsletter and would like to subscribe for yourself, go to: www.4x4training.com/contacts.html and follow the instructions to join our mail list.
Want To Use This Article In Your Magazine, E-Zine, Club Newsletter Or Web Site? You are welcome to use it anytime, just be sure to include the following author/copyright information: Tom Severin, 4x4 Coach, teaches 4WD owners how to confidently and safely use their vehicles to the fullest extent in difficult terrain and adverse driving conditions. Visit www.4x4training.com to develop or improve your driving skill.

Copyright 2015, Badlands Off-Road Adventures, Inc.