---
Stocking Stuffers: Winch Recovery Bandana & Winching DVD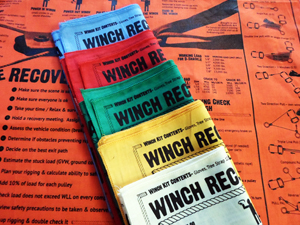 Click for higher resolution image

We have our new stock with many new colors (Red, Orange, Green, and Blue) on hand. The Bandana is packed full of useful information and is a quick reference in the field when no DVD player is available."

The Bandana layout follows the "Vehicle Recovery Plan" with pathways to more detail. A unique section of the Bandana, gives the steps for a "Winch Rigging Check: Walk through" so that you verify every element of the rigging before you commit to the pull. Stuff this in your recovery kit and you will always be ready!

Pick up or order the Winching DVD too! There is no substitute for hands on training. If you can, sign up for one of Badlands Off-Road Adventure's Winching Clinics.

Warning – the Bandana and DVD are not a substitute for proper training and use of quality equipment that is used within the bounds of their safe working load. We advise you to use the information provided in both the Winching Recovery Bandana and the "Basic to Advanced Winching and Recovery DVD" at your own risk. We cannot control the quality and specifications of the equipment used and the methods actually employed.


---

I hope to see you on the trails!
Tom Severin, President
Badlands Off Road Adventures, Inc.
4-Wheel Drive School
310-613-5473
http://www.4x4training.com
Make it Fun. Keep it Safe.
#####
If you find this information valuable, please pass it on to a friend. You can forward them the email. If you received a forwarded copy of this newsletter and would like to subscribe for yourself, go to: www.4x4training.com/contacts.html and follow the instructions to join our mail list.
Want To Use This Article In Your Magazine, E-Zine, Club Newsletter Or Web Site? You are welcome to use it anytime, just be sure to include the following author/copyright information: Tom Severin, 4x4 Coach, teaches 4WD owners how to confidently and safely use their vehicles to the fullest extent in difficult terrain and adverse driving conditions. Visit www.4x4training.com to develop or improve your driving skill.

Copyright 2014, Badlands Off-Road Adventures, Inc.